Market of Independent Winegrowers 2023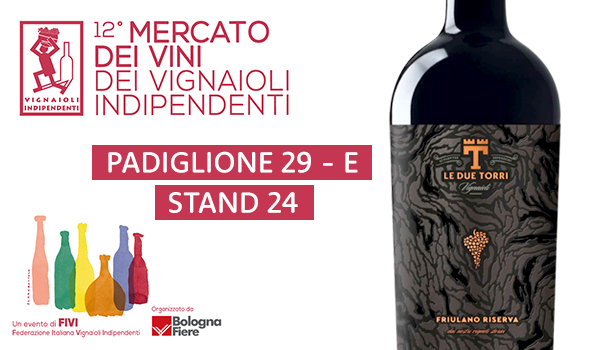 A celebration of vinicultural craftsmanship and terroir, the Market of Independent Winegrowers 2023, now in its 12th edition, will welcome over a thousand winemakers from every corner of Italy. Alongside them will be a vibrant representation of independent olive growers from FIOI and special delegations from European wine associations.
We, from Le Due Torri, are truly proud to participate as exhibitors representing the excellence of Friuli Venezia Giulia!
The event will take place from the 25th to the 27th of November 2023 at BolognaFiere, serving as the meeting point for enthusiasts and industry professionals. It's a unique opportunity to immerse oneself in the authentic atmosphere that has always characterized this event.
The Market of Wines becomes an extension of our cellars, an intimate space to share our passion for wine and foster meaningful encounters with those eager to learn about our work and our wines.
BolognaFiere is gearing up to host the event across 30,000 square meters, distributed among 4 pavilions. Pavilions 29 and 30 will house the Winemakers while pavilions 28 and 36 will be dedicated to food and services related to the Market.
An entire pavilion will be reserved for food, and the central gallery will accommodate partners, sponsors of the Market of Wines, and the FIVI institutional stand where you can purchase the iconic t-shirts and other gadgets from independent winemakers.
These three days promise to be a unique experience in the world of artisanal wine, an immersion into the quality and the essence of the territories: three unmissable days in the company of Independent Winemakers!
You can find us at Pavilion 29 – E, Stand 24.
To purchase tickets click here!
We look forward to seeing you in great numbers!
Discover our products: