Calici di Stelle 2023 in Grado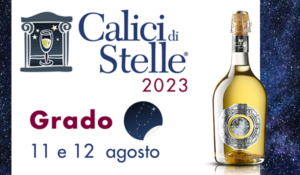 Calici di Stelle 2023 is back, the summer event dedicated to wine tastings and regional specialties, and it's making a stop in one of the most charming locations in Friuli Venezia Giulia: Grado, the island of the Sun.
When: August 11th and 12th, 2023
Time: from 8:00 to 11:00 PM
During the event, you'll experience an unparalleled sensory journey: you'll discover delightful pairings between the flavors of the territory, culture, and art, while tasting the true "stars" of the event: wines from some of the most prestigious regional wineries.
There will be 29 participating wineries. We at Le Due Torri will be present with a selection of our signature wines: "Stargate" Sparkling Wine with zero dosage, Pinot Grigio Ramato, Ramato, Friulano Superiore, Sauvignon, Ribolla Gialla, and "The Rebel" Reserve Red.
In these two unforgettable evenings, you'll have the opportunity to interact directly with the producers, learning secrets and curiosities about the wine and gastronomic excellence of these lands. Musical entertainment and other pleasant surprises will make your culinary journey even more engaging, revealing refined pairings between food and wine.
Access to the tastings is reserved for holders of a special kit, which includes a wine glass, a convenient carrying bag, and coupons that will allow you to freely taste the wines offered and delight in the various gastronomic proposals offered by the participating producers. The kit costs €40.00.
This year, on the occasion of the 30th anniversary of Cantine Aperte regional, the organization has decided to reward those who book early with the discount code Calici23:
25% discount for those who purchase the pre-sale by July 17th – 1:30 PM
20% discount by July 24th – 1:30 PM
15% discount by July 31st – 1:30 PM
10% discount until August 9th – 1:30 PM
Take advantage of this unmissable opportunity right away!
We can't wait to welcome you to Calici di Stelle 2023 and share with you the authentic essence of our lands through the taste and pleasure of our fine wine. We look forward to an unforgettable evening with you!
Discover our wines in advance: