SABATO DEL VIGNAIOLO 2023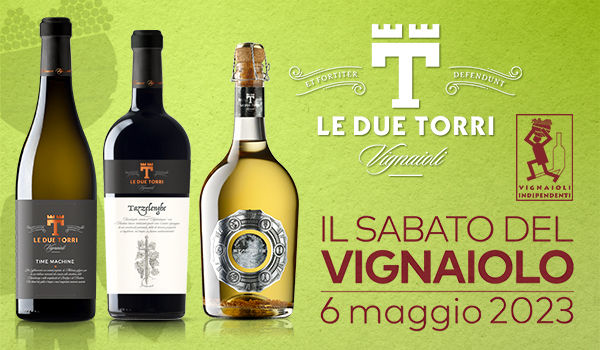 Saturday, May 6, 2023, Le Due Torri will participate in the awaited "Sabato del Vignaiolo", the event spread throughout Italy and organized by the local delegations of the Italian Federation of Independent Winegrowers (FIVI) to tell the public and fans about the territorial realities of over 1,500 members.
Who is the Winemaker?
The Independent Winemaker cultivates his vineyards, vinifies his grapes, bottles his wine and personally takes care of the sale of the same, under his own responsibility, with his name and his label. Engaged daily in a process that follows the entire production chain, the Winegrowers constantly work to preserve, protect and promote the territory to which they belong. The FIVI, of which we are proud members, has today almost 1500 members and aims to protect the profession of the Winemaker, representing him in front of the institutions and promoting its specificity.
This event has the main objective to offer wine lovers a day of celebration and relaxation, but also to discover the work of the Winemakers, the traditions handed down from generation to generation, and the excellence of the territories in which they cultivate their vineyards.
22 are in total the events organized throughout Italy, from north to south and we of Le Due Torri will be present in Cormons, in the province of Gorizia.
We wait for you on May 6th in Piazza XXIV Maggio to spend a day in company, let you taste our wines and share with you our passion for the territory and our work.
Learn more about the FIVI Federation. Click here.
Discover and preview our products.