Calici sotto le Stelle 2023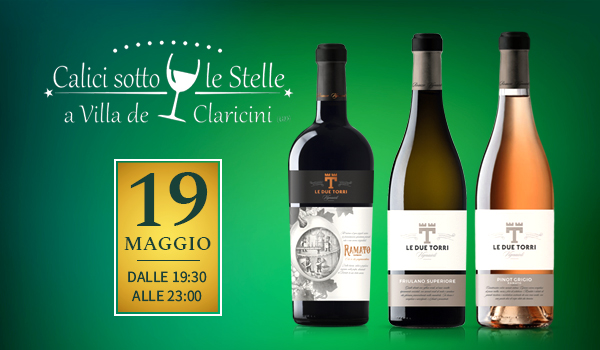 On May 19th, from 7:30 PM to 11:00 PM, Le Due Torri Vini will be present at Calici sotto le Stelle 2023, an event at Villa Claricini Dornpacher in Moimacco.
Calici sotto le Stelle is a not-to-be-missed event dedicated to the tasting of white, red, and sparkling wines from the best wineries in Friuli Venezia Giulia and Brda (Slovenian Collio), accompanied by local gourmet food delicacies and the refined cuisine of local restaurants and farmhouses. The event is organized by Itinerari del Gusto Fvg, an organization committed to promoting the enogastronomic products of the region.
The event will take place outdoors, in the suggestive setting of the main villa of Villa Claricini Dornpacher, immersed in a nineteenth-century park that will make you feel transported into a Renaissance atmosphere.
The tasting includes not only wines but also beers, liqueurs, and other typical culinary products. The evening will be a unique opportunity to get to know some of the best enogastronomic excellences of Friuli Venezia Giulia and Brda.
The ticket price for the public is €30 in pre-sale and €35 at the entrance of the Villa, and it will include a complete tasting without tasting limits. The organization will also provide a glass carrying bag with a glass for your tastings. Ample private parking is available for all participants.
We look forward to seeing you on Friday, May 19th. Don't miss it!
Do you want to buy our wines in advance?